Even though I've been blogging for over two years I still feel like I have so much to learn.
I want to make changes to my blog but I'm nervous, because I'm so comfortable with it the way it is...but things are pretty slow moving around here when it comes to attracting new followers.
So, that's why I'm signing up for
One Artsy Mama's Blog Mentoring program
!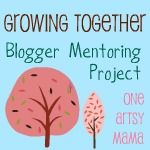 Topics covered will include
Blog Design, Branding, and Blog Promotion/Growth,
specifically focusing on aspects like
improving your photos, where and how to submit your ideas, finding your own voice, etc.
These are all things I can learn more about.
The cost is only $20, unless you do a little promo post like this, then you can get 50% off!
So, for only $10 you can recieve the weekly assignments and get one on one feedback from Amy at One Artsy Mama from the end of January until the end of April. That's a lot of bang for your buck!
Check it out for yourself and see if you want to come along for the ride!