Wow! I just love it when you make it hard for me to decide which projects to feature. It's great having so many awesome ideas all in one place.
I really got a kick out of these fun dolls from Jutta over at
Creative Chaos
.
I think they'd be great for siblings to have a pair. You could make a whole family!


I love a good scrapbusting project, and these cute wristlets from Fifi over at
About Blogging Time
do just the trick.
Now, be prepared to be blown away. Suesan over at
Frou Frou Gal
made this gorgeous quilt as a Pottery Barn Knock-off.
Keep in mind, this is a quilt...not a duvet cover
. Soooooo much more work, but she shows you how to make your own with her awesome step by step tutorial.
And I just had to show you this gorgeous but simple "fancy" dress from Nancy over at
Nancy's Couture
. I wish I had a dress like this when I was little...oh who am I kidding, I wish I could wear one just like this now!
If you want to know the secret of why this is so simple to make, you'll have to head over to Nancy's blog to find out~
Featured button is to the right, to the right...over in the sidebar~
And now onto you! What have you been working on that you want the rest of the world to see? Link up below...but before you do, please take 3 seconds to read the guidelines (come on...it's only 3 seconds):
Please remember to only link:
1) To your Family Friendly Project Post that you've made yourself, not your main blog page
2) Maximum of 3 projects that you haven't link up before
3) Please, no shops or giveaways
4) Feel free to hit one of those Follow buttons on the sidebar ;)
And, not really a rule, but something you won't regret if you do....go visit some of the other links and leave a comment, we all love comments right~
If you link up, please post my button somewhere on your blog so more people can come join the fun
: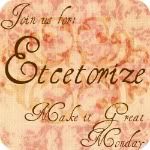 (
If you link up you are giving me permission to tell the world how great you are and possibly post a picture or a link to your awesome project either here, on Facebook, or on Pinterest. Make sure you're ok with this before you link up.
)